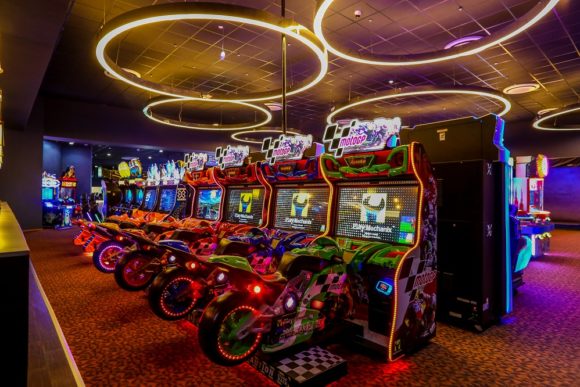 " Yoo, that new arcade center, Rufus and Bee is the truth. I'm addicted already. It's just like Dave and busters. Everyone kept saying it felt like they were in the US".
And this was the conversation that compelled us to visit this new arcade center in Lagos. Everyone had been going on about it and it was finally time to see for ourselves. The arcade center launched sometime in December, perfect time to launch a new spot in Lagos if you ask us, and everyone was there over the Christmas break. The internet sphere was full of videos and photos of this new joint. The first time we spotted it, we assumed it was a pop up at one of the already existing malls, the Palms perhaps. It will probably be pulled down after the Christmas holidays. Till we began to see it over and over again.
We did a bit of digging searches new arcade center in Lagos but we'll be honest the articles we found online were not exactly exciting. Most of them sponsored post on news websites and there was just something unexciting about them. We put our visit to Rufus and Bee on the back burner till that conversation. Just like Dave and busters right? We knew we had to visit…the very next day.
The arcade center is pretty easy to locate and we had no issues finding it. Its right in the heart of Lekki, by the ocean, right before the Lekki Leisure Lake (for people familiar with Lagos). You can check out this map if you need directions.
Located at the TwinWaters Entertainment center, Rufus and Bee is an arcade center, restaurant, bowling alley (coming soon) and sports bar all wrapped up in one! We were there mainly for the arcade and were pleasantly surprised to see it had so much more.
HOW IT WORKS
Rufus and Bee operates like every other arcade center you might have visited. You'll be required to purchase a card worth N1,000 and buy points on the card. You can buy points as low as N5,000 and as high as N30,000.
Each game requires you to touch your buzz card before you play and the buzz card lasts for a lifetime (never expires). All that is required is a refill when you run out of chips on your card. You'll use up a certain number of chips, from 4-8 chips, per game per play.
We decided to go with 405 chips and ended up having 151 chips left. For over two hours of play, not bad we must say. It was such an enjoyable day. We tried our hands on a shooting game, dancing, hoops, race cars, one that requires you to use a hammer (hahaha) and table hockey. There were tons of other games we did not experience and we'll be sure to try them out next time we visit.
Most games (the ones with green neon lights) give you coupons which you can either redeem for a price or feed back into your buzz card for more chips. We advice feeding them back into your buzz card especially if this is a place you plan to visit often. We got 180 coupons and if we opted for the redeem a gift option we would have gotten a ridiculous stick soldier.
For more information on their offers and specials check out their website here and Instagram here. Let us know when you eventually check them out!