Happy Children's Day!
How are you celebrating this day with your child(ren) today? How about exploring some of the kiddies fun spots around Lagos? Yes! There are a whole lot of places in Lagos (both Island and Mainland) to let your kids amazing time. Rain, intense sunshine, heat should not stop you from having fun with your family, especially with the kids. While there are indoor play centers, there are also outdoor play centers. So you can visit whichever you love most or the weather permits. But either ways, they are always fun!
I remember that a few years ago, there were just a few places to take the kids to for fun. But recently there has been quite a lot of places to explore in the city. I am so certain that my kids can go out 52 weekends in a year to explore the many places around without repeating many of these spots. That shows how numerous the fun spots in Lagos are.
If you have no idea where to take your kids to for fun, today or every other weekend, we have compiled the top 5 places to check out.
UPBEAT
To encourage recreational activities and to satisfy the needs of the community for a place to have exciting moments, Upbeat was launched. It is the first Trampoline Park in West Africa where both kids and adults can enjoy quality sporting activities. Since it was launched, it has become a hot spot for fun (while keeping fit at the same time…fun + fitness). It is no doubt a cool place to take you kids to.
Fee: ranges from N1,000 – N3,500 per person.
Address: 11, Admiralty Road, Off Admiralty Way, Lekki Phase 1.
Phone number: +234 818 884 4991
BUBBLES PLAY KINGDOM
Bubbles Play Kingdom is a wonderful play center for kids who just want to have fun. At this play center, the physical and mental well being of kids are taken into consideration by engaging them in different fun activities from climbing and sliding to crawling to swinging and many other fun activities.
Address: 1st Floor, AOS Mall, Surulere, Lagos
Phone number: 0803 828 4460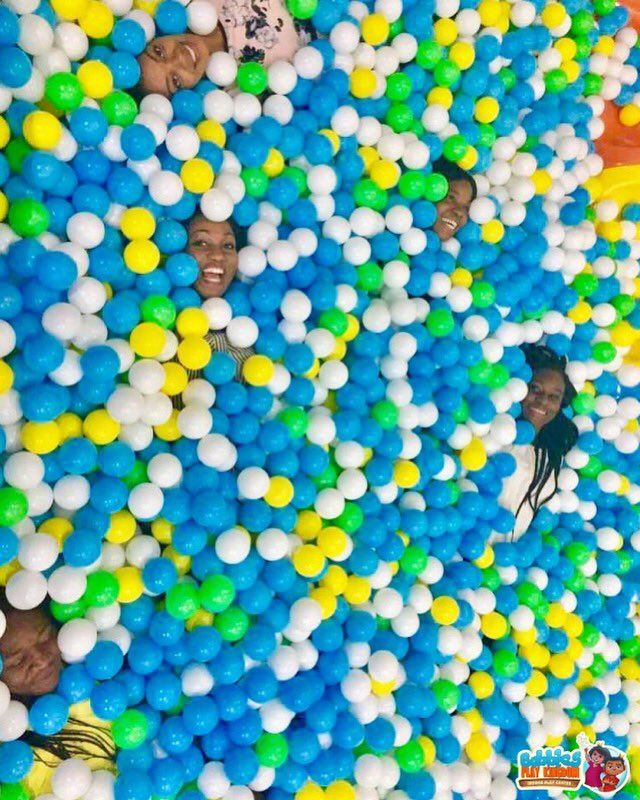 MAXITIVITY
Thrills!!! Maxitivity is a home of thrilling adventures. From wall climbing and bumper car rides to arcades to 9D virtual reality to Pedal boat. It is no doubt a fun place to bring kids to have a wonderful adventurous time.
Fee: from N600 to N2,500 per game
Address: Circle Mall (Osapa) Lekki
Phone number: 0802 255 2974
FUNTASTICALAND
While many fun spots might be on the island, there are some located on the mainland for people who may find it stressful travelling down to the island. One of these mainland spots is FUNTASTICALAND. It is another amazing entertainment center for kids and the family.
Address: 25 Olusoji Idowu St, Ilupeju Olusoji Idowu Street Ilupeju
Phone number: 0803 720 8929
PLAY PLACE
Play Place is one of the best kiddies play centers to visit in Lagos. It is an indoor and outdoor play center for kids of different ages. At the play center, they can jump, run, explore different games there and just enjoy their best lives.
Fee: N4,000
Address: Eddy Okeke Street, Ogudu Ori-Oke, Lagos
Phone number: 0810 192 0386
BONUS
There you have our top 5 fun spots for kids. But how about the older kids? Are they left behind in the fun activities? No, they are not! While the spots mentioned above are friendly for younger kids (although older kids are welcomed), these few spots are good for the older kids and adult. Many times you see adults (youths and young parents) at these places also catching fun and enjoying their best lives.
RUFUS AND BEE
Rufus and Bee is one of the new game arcades in the city of Lagos. It is a fun-filled game center for both young and old. We visited shortly after it was launched and it just felt like one of those arcades in the US and we enjoyed it. Till now, it is one of the places people still enjoy visiting in Lagos. We wrote an article about the arcade center sometime last year. You can check it here.
How are you celebrating Children's Day with your kids today? Which fun kiddies spot (not mentioned here) are you taking them to today? We'll like to read and know more places to give kids a FUNderful time.